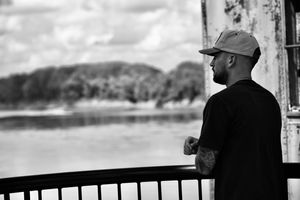 About
Joey Wray moved to Nashville in 2017 from his hometown of Bowling Green, Missouri, to further his career in music. Music has always been a passion for Wray. He always loved singing with his family and began playing guitar with his grandpa at age 12. Wray has many musical influences including Keith Whitley, Travis Tritt, Brooks and Dunn, Tim McGraw, Merle Haggard, Eric Church, Jason Aldean, Dierks Bentley, The Eagles, John Mayer, and even newer artists such as HARDY, Morgan Wallen, and Riley Green.   
Wray's lyrics are drawn from personal experiences of growing up in a small town, and of course relationships and the heartbreak that can follow. He strives to write music that means something to him, is relatable to others, and makes the listener feel something.  His debut EP' released in September of 2018, which has six original songs, including his popular single "Catch and Release."   He has since released multiple singles including, "Chasin' Smoke" and "Ain't On Me".  Wray is currently working on a full length studio album that is set to release in the fall of 2022.
 He has performed with acts such as Mark Chesnutt, Riley Green, Craig Morgan, The Cadillac Three, Matt Stell, The Swon Brothers, Trent Tomlinson, and more. 
He looks forward to the tests and trials that lay ahead on the road to chasing his dream. Proverbs 16:9 "A man's heart plans his way, but the Lord directs his footsteps"
Press Photos for Advertising
More Info
Social media and additional music links below. 
Pricing varies, so feel free to fill out an inquiry form below for more information.